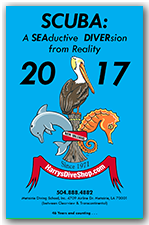 Download Our Complete 2017 Schedule
This is the same 53-page booklet we hand out in the store. In it you will find detailed information on all of our classes, trips and activities for 2017. Open it in Adobe Acrobat or any other compatible PDF reader on your desktop, laptop, phone or other mobile device. Download PDF.
Get Certified
Be adventurous. Be amazed. Be a diver. Your first step is earning your Open Water Diver certification — becoming what is commonly known as a "certified diver." Even if you've previously taken part in introductory scuba experiences, you are most likely aware that the best opportunities in diving await those who are fully certified. Find out more…
…Or Just Give It a Try
Okay, let's say the idea of scuba diving intrigues you — but you're not certain you want to commit to an entire certification course. No problem. Harry's Dive Shop offers the opportunity for you to discover what scuba diving is all about and whether or not it's for you. Find out more…
Refresher Course
So long as you dive actively, take continuing education courses and record your training and experience in your dive log, you'll find your certification is good indefinitely. What happens, however, when circumstances force you to take a break from diving for up to a year or more? Then it's time to consider a refresher course.
Just for Kids…
Scuba Rangers is a one-week, summer-camp-style program where kids seven and up do all the cool, fun scuba things adults do under water — but in the safe, shallow confines of a pool. Now kids can experience the weightlessness of an astronaut and the freedom of a fish.
Learn to Snorkel
Just about anyone can do it, from kids to seniors. Learn the fundamental skills and how to be safe in the water. Also, if you are unsure about learning to scuba dive, this can be a great way to help build your confidence. Find out more…
Water Zumba

Merpeople are created as adults. Just as they are a drop in the ocean; they are the ocean in a drop. Have you ever wished that you could be a Merperson? Well, you can experience the feeling through Water Zumba. Find out more…
Continuing Education
Your beginning scuba course was just that: a beginning. Ending your education there is like bragging that you've graduated the sixth grade. Fortunately, we offer a wide assortment of Advanced and Specialty Diver courses that allow you to custom-tailor your education to fit your individual interests and needs. Find out more…
Emergency Response Courses
Smart divers know that the best response to any emergency is to prevent it in the first place. Unfortunately, you can't always do that, so it's best to be prepared with CPR, O2 and Diver Stress and Rescue training. Find out more…
CCR and Tech Diver Training
Technical diving is defined as: exceeding 130-foot depth, making planned deco stops, using more than a single gas mixture, and/or diving in overhead environments. Close-Circuit Rebreathers (CCRs) such as the Poseidon Se7en can significantly extend both range and bottom time. Both require highly specialized training. Find out more…