Shark Ecology and Coral Identification
Two of the things that interest us most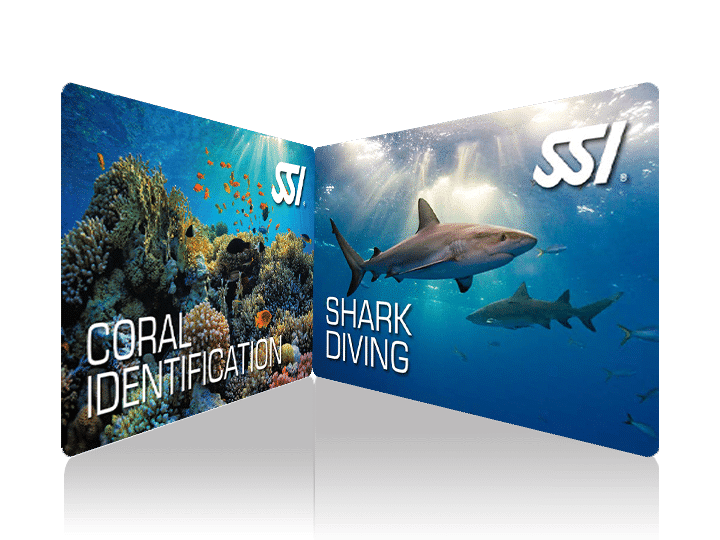 ■ One evening in the classroom
■ $225/person for regularly scheduled classes
Dates and Times
Prerequisites
Price includes
About
Dates and Times
Starting dates
■ Wednesday, April 25, 2018
■ Thursday, August 16, 2018
Weeknight classes meet from 6:00 to 10:00 pm
Classes require a minimum of three people to run as scheduled. If fewer than three people sign up, we reserve the right to either cancel the class or impose a $100 surcharge.
Please be aware that, while we make every effort to keep our listings accurate and up to date, you should always call the store to confirm starting dates and times.
Prerequisites
■ Be at least 10 years old
Price includes
$225/person includes:
■ All instruction
■ Self-study materials
Private instruction available at an additional cost
About
Few things seem to fascinate divers more than sharks, coral, fish, turtles and wrecks. We have courses that cover the last three items on this list. This course covers the two items that seem to fascinate many divers most: sharks and coral reefs.
■ While the general public maintains an egregiously ill-informed attitude toward sharks, most divers know better. In fact, many divers actively seek out opportunities to observe these incredible predators in their natural environment. You don't have to dive with sharks, however, to learn more about them. Simply come to this class.
■ Each stand of coral is an entire ecosystem in and of itself. A colony of complex animals, corals support not only themselves, but other creatures with whom they maintain a symbiotic relationship. This is why coral reefs are home to large schools of fish and other animals.
This single class will help you better understand these two, very different forms of aquatic life and identify common species of both. It will help add considerable enjoyment to your next dive.
Ask a question
Use this form to ask us about this specific course — or you can simply stop by the store or call (504) 888-4882