Gulf of Mexico Rig Diving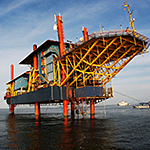 Charters on demand: People often ask us if there is any diving closer to New Orleans than the Florida Panhandle. There is. Grand Isle Scuba operates a 29-foot Topaz that caters to both divers and fisherman. The Rig Diver is a comfortable 29' twin-diesel Topaz with a custom ladder and platform. More…
Habitat Bonaire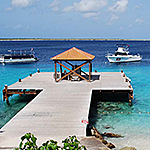 February 10-18, 2018: Spend Mardi Gras in Bonaire! Consistently rated among the top three dive destinations in the Caribbean, the island of Bonaire is renowned for its aquatic life, soft and hard corals — and some of the best shore diving on the planet. More…
Cobalt Coast, Grand Cayman
April 1-8, 2018: Cobalt Coast is located on the Northwest shore of Grand Cayman in a secluded setting with spectacular views of the inviting waters of the Caribbean. Enjoy your meals at our oceanfront restaurant serving American breakfast, lunch snd continental style three-course dinners and linger till sunset. More…
St. Croix, US Virgin Islands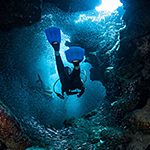 June 30-July 7, 2018: Celebrate your independence this July 4 in St. Croix. Stay at an amazing B&B and dive some of the Caribbean's most dramatic walls and reefs — all without leaving United States territory. This is truly America's paradise for divers. More…
Great White Shark Diving
August 1-6, 2018: You've thought about what it would be like to actually see and photograph the Carcharodon carcharias, the ultimate "King of the Sea" — aka the Great White Shark, an Apex Predator. Join us for some first-hand experience with this hair raising, long remembered adventure. More…
Wakatobi Dive Resort, Sulawesi, Indonesia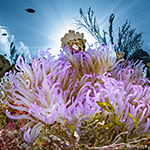 September 29-October 13, 2018: Wakatobi is a luxury dive resort in Sulawesi, Indonesia. In a tranquil setting far from crowds and cities, with no other divers for at least 100 miles, Wakatobi blends five-star amenities and comforts with a pristine natural environment; a pairing that has secured its reputation as one of the world's finest resorts. More…
Dive on our schedule or yours
If your schedule doesn't match up with the dates we have posted for a particular trip, we can usually work around that — especially when a trip is to a land-based dive resort. If you need to arrive or leave early or late, we can generally accommodate that. Bear in mind, liveaboard dive vessels do leave and return to port on fixed dates. However, we frequently have other activities scheduled for before and after the liveaboard portion of the trip, which affords some flexibility. So, if you have special scheduling needs, don't hesitate to ask.
Don't Forget Anything!
Use our convenient Travel Checklist to make sure you leave nothing behind.