August 1-6, 2018: You've thought about what it would be like to actually see and photograph the Carcharodon carcharias, the ultimate "King of the Sea" — aka the Great White Shark, an Apex Predator. Join us for some first-hand experience with this hair raising, long remembered adventure.
You'll be using surface supplied air at Isla Guadalupe leaving more room in the cage by not wearing tanks. Hookah regulators and weights are provided. The only equipment you need to take is mask and wetsuit or drysuit.
Water temperature is typically in the high 60s to low 70s at this time of year. Of course, numerous cameras with wide-angle lens are anticipated and expected. (Hint: Get an underwater camera with a wide-angle lens and learn how to use it now!)
Shark diving allows shark enthusiasts and researchers from around the world an easy way to observe the extraordinary world and habits of the infamous Great White Shark. The shark cages create a discernable barrier. The sharks quickly recognize them, thereby permitting you to safely observe and experience these incredible animals up close and personal.
Isla Guadalupe
Isla Guadalupe is a wild and spectacularly beautiful place. It has recently been named a Biosphere Reserve. The island is located 200 miles southwest of San Diego and offers a scenic and forbidding collection of ancient volcanic cinder cones, ridges and dramatic offshore rocks. It's truly a geologist's dream.
Isla Guadalupe hosts a large population of pinnipeds such as Northern Elephant Seals, California and Stellar Sea Lions. The remote location of Guadalupe provides a secret sanctuary for these animals which has prevented them from being hunted to extinction, yet they are still a prime food source for the sharks.
Isla Guadalupe boasts the world's best visibility for Great White Shark diving, at 100+ feet. Your experience at Guadalupe affords you the chance to see as many as eight different Great White Sharks in a single day.
M/V Nautilus Under Sea
The 115-foot M/V Nautilus Under Sea features a constant 120-volt power supply, 600 gallons of fresh water, two freshwater makers, two hot water showers, on-deck hot-water shower for between dives and a dryer to have warm, dry towels between dives.
Eight private, air-conditioned staterooms have individual thermostats and wash basins, plus every other diving amenity you need. TheNautilus Under Sea is the perfect long range boat for those seeking comfort and style while diving with Great White Sharks.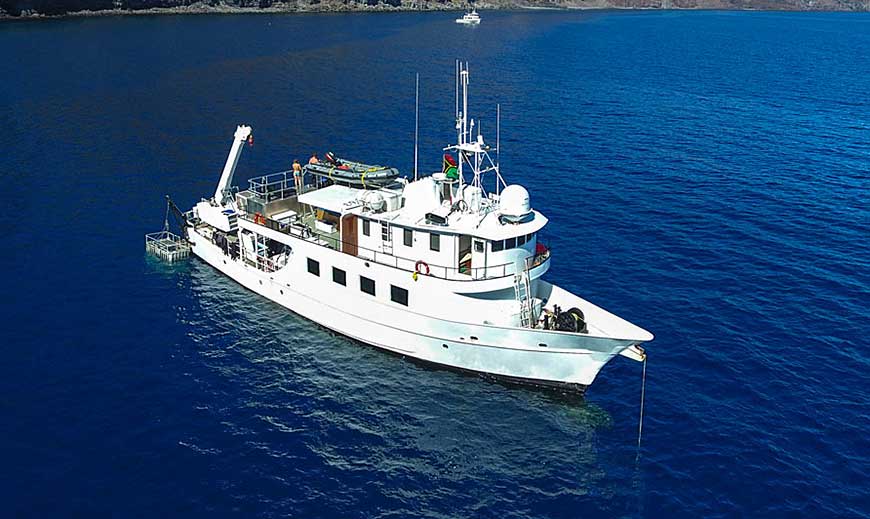 The galley is equipped for any style of cooking providing a wide range of cuisine. Choices range from traditional meals to freshly caught fish or meals that cater to religious observance or dietary restrictions. All beverages, including beer and wine are available at no extra cost.
TheNautilus Under Sea's galley/salon area has ample room for all guests at one seating. Complete with TV, VCR, DVD and internet access, the salon is an excellent place to wind down after a day of incredible shark diving.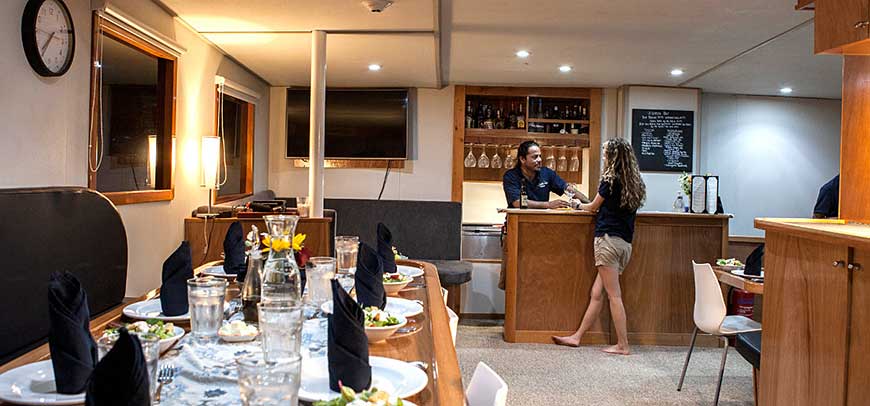 There are eight trained and professional crew members which means customer service is top notch. Crew members are industry professionals who care about your safety and enjoyment. These folks are certain enough to give a guarantee that you will see Great White Sharks.
The Diving
The boat arrives on-site and begins deploying cages and breathing hoses. Each cage accommodates four divers at a time.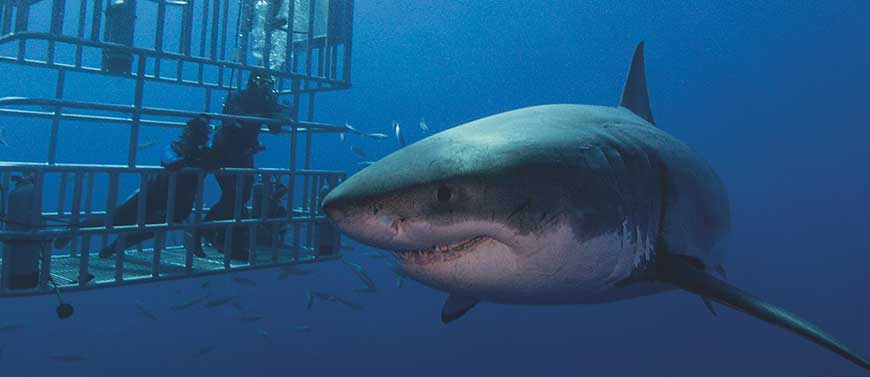 Guests are divided into two groups of eight divers each. A coin is then tossed to see who gets in the cages first. The rotation of one hour in and one hour out begins. Should someone in the other group choose to skip a turn, a lucky diver could stay in the cage three hours straight.
A team of experts personally oversaw the complete fabrication and updated design of the Horizon's shark cages featuring external flotation pods allowing for more space and comfort.
Who is This Trip Ideal For?
This may be the perfect trip if you:
Are interested solely in diving with Great Whites and nothing else.
Will not be traveling with anyone seeking other activities.
Are seeking to do little more than just eat, sleep and dive with sharks.
When Does It Take Place?
Our travel schedule is as follows:
You depart the Best Western Island Palms hotel in San Diego at 7:30 PM on Wednesday, August 1, for a two-hour bus ride to Ensenada, Mexico.
TheNautilus Under Sea leaves port in San Diego at or before 10:00 PM, arriving Isla Guadalupe for your first Great White Shark experience early the next morning.
The boat returns to dock on Monday, August 6, where you will board the bus for your return to San Diego.
If you want to stay overnight on your return from San Diego (as most travelers will), we have special rates with the nearby Best Western Island Palms The reservation number is (855) 516-1090.
How Much Does it Cost?
Trip Pricing: Pricing for this trip is as follows:
Private stateroom for two: $4,595/person*
Friends/family stateroom (twin over double): $3,495*
Triple room (three twins): $2,995*
* Subject to change
Deposit and Balance Due: Requirements are as follows:
$1,000 due at signup
Balance due May 1
Be aware there are no refunds within six months of departure unless we find someone else to take your spot
What's Included: The basic trip price includes the following:
Five nights and days on board Horizon
Breakfast, lunch and dinner while on board
Beverages while on board
Shark diving permit
Trip DVD
Use of hookah and weights
You do not need fins, BCs, regulators, tanks or weights.
Not Included: Travelers are responsible for the following (if applicable):
Round-trip air fare from New Orleans
Airport transfers in San Diego
Meals while in transit
Hotel room the night of return
On-board Internet access ($100)
Trip insurance
Crew gratuity
Additional Requirements: Travelers must supply:
Valid passport with six months left past date of return and two blank pages
Diver and/or Nitrox certification cards
Dive insurance
Signed waiver and Statement of Understanding
Get More Information
Use the form below.