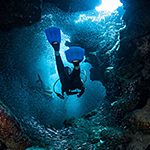 June 30-July 7, 2018: Celebrate your independence this July 4 in St. Croix. Stay at an amazing B&B and dive some of the Caribbean's most dramatic walls and reefs — all without leaving United States territory. This is truly America's paradise for divers.
Arawak Bay: the Inn at Salt River
Stunning beauty, peace and relaxation describe the atmosphere of this charming B&B on St. Croix's north shore. Breathtaking views of Salt River Bay and the Caribbean Sea from each room, glimpses of St. Thomas and Tortola, island breakfasts with house specialties and relaxation by the pool and bar, affirm that you are in America's paradise even as you stay connected via free, in-room, wireless access and satellite TV. The welcoming and gracious hospitality of hosts Jennifer and Lionel often earn the guests' characterization as their "home away from home".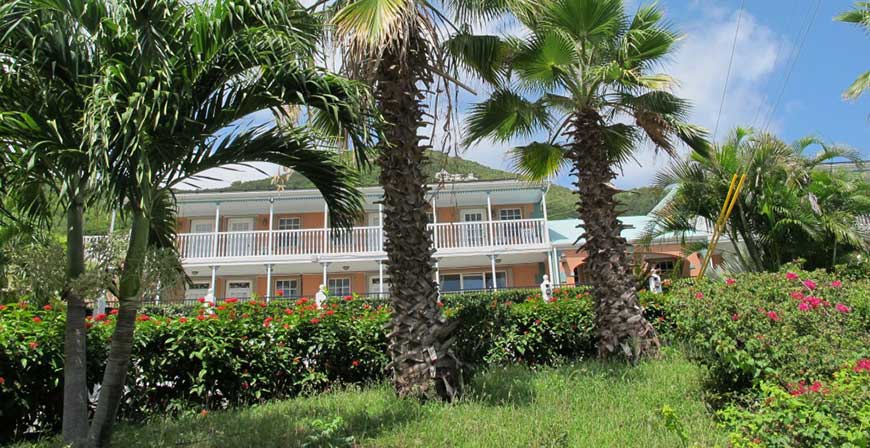 Close to the Henry E Rohlsen International airport and to downtown Christiansted, to area restaurants, to popular beaches including Cane Bay, and to a variety of water sports activities, the Inn is perfectly situated. It is a three-minute walk from the Salt River Marina and a ten-minute drive from the Cane Bay Dive Shop. Arawak Bay partners with the Cane Bay Dive Shop to ensure that both your island diving experience and your accommodations are superb.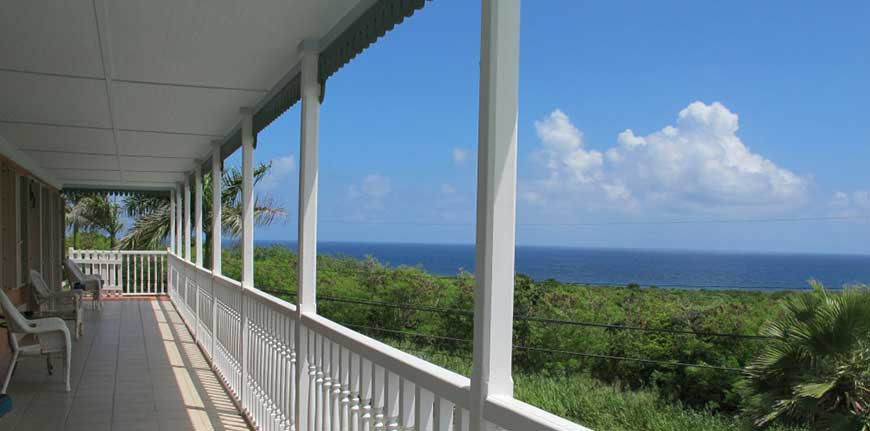 Constructed and opened in March 2007, Arawak Bay is a 14-room Bed and Breakfast Inn that boasts all the amenities of a modern hotel. It is owned and operated by Lionel and Jennifer, a Caribbean couple whose love of the Virgin Islands and whose willingness to share the island's treasures with you are reflected in the daily operation of the Inn.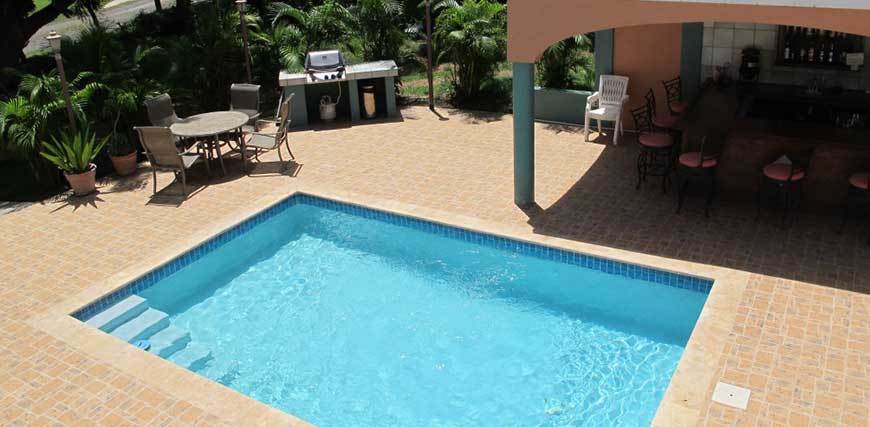 The top priority of the owners and staff of Arawak Bay Inn is to contribute to making your visits to the Virgin Islands as memorable and as enjoyable as possible. Standard amenities and services include:
A complimentary island breakfast
Attractive rooms with either one king or two full-size beds
Free, high-speed wireless Internet access
In- room satellite TV
Individual AC units
Mini-fridge and safety deposit box in each room
Pool and honor bar
Balconies where guests may work, or relax and watch the world go by
Telescopes for star and ship gazing
Rooms are non-smoking
Guided early morning walks for the fit and fearless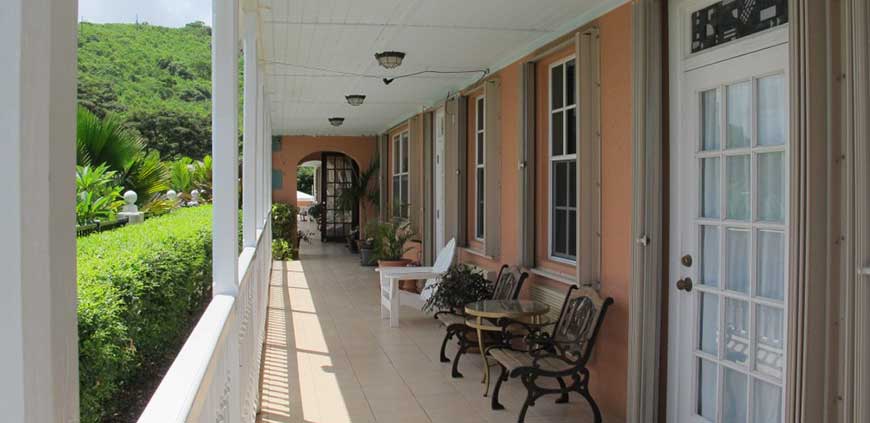 Learn more at www.ArawakHotelStCroix.com.
Cane Bay Wall and other dive sites
St. Croix is known for world class Caribbean diving. Beneath the turquoise waters the island is almost completely surrounded by a barrier reef teeming with coral, sponges, schools of tropical fish, sea turtles, and more. The most well-known part of this spectacular coral reef runs along the north shore of St. Croix and is known simply as The Wall.
Rated as one of the top dive sites in the entire Caribbean, The Wall has something for every level of diver. About 100 yards from shore, and starting at a depth of 26 feet, is the famous 'seahorse' – a carousel horse that stands upright in the sand.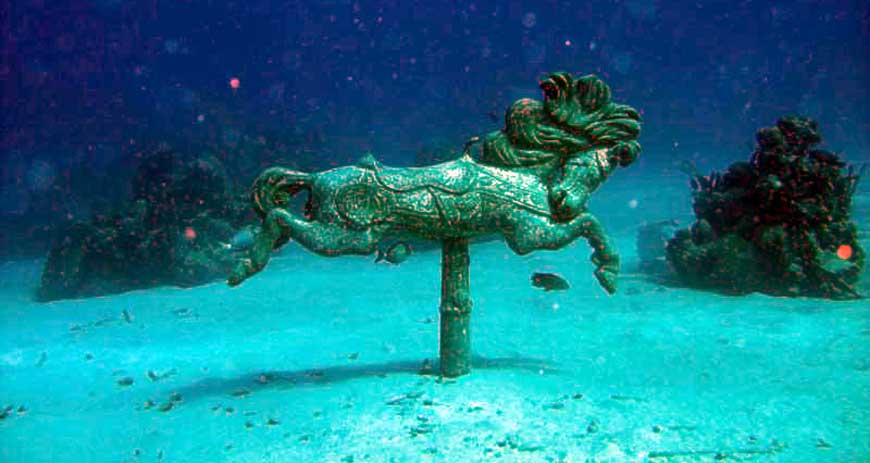 Continuing north from the seahorse, sand chutes run between beautiful living coral gardens filled with soft and hard corals of every type. The Cane Bay Wall drops from 40 feet to over 3,200 feet, and includes sheer vertical drops and slow sloping areas. Nineteenth century anchors and large deep water sea life can be found along the wall.

You will likely see reef sharks, stingrays, sea turtles, barracuda, schools of triggerfish, parrot fish, angelfish, trumpetfish and blue tangs. Teeming with an abundance tropical fish and aquatic life, this site is truly a diver's paradise. Close to shore, is a beautiful living coral garden filled with a variety of soft and hard corals, along with tropical fish and aquatic life.

Who is This Trip Ideal For?
This may be the perfect trip if you:
Want the comfort and convenience of a land-based resort.
May be traveling with one or more nondivers.
Are seeking to do more than just dive on your vacation.
When Does It Take Place?
Our travel schedule is as follows:
Our outbound flight departs Saturday, June 30
We return Saturday, July 7
How Much Does it Cost?
Trip Pricing: Pricing for this trip is as follows:
Base price, per diver (double occupancy): $2,550*
For single occupancy: Add $600
Nondiver: Deduct $450
Children Ages 5-10: $300 plus air fare
Children Under 5: $100 for transfers plus air fare
*Subject to change depending on air fare. Deduct $50 if paid by cash or check by April 1.
Deposit and Balance Due: Requirements are as follows:
$1,000 due at signup
Balance due April 15.
Contact store for cancelation policy and refund schedule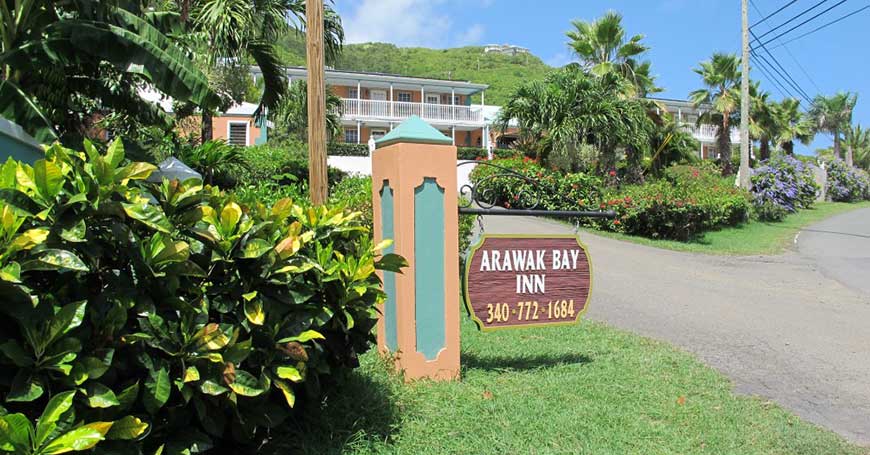 What's Included: The basic trip price includes the following (if applicable):
Roundtrip air fare from New Orleans
Airport transfers at destination
Eight days/seven nights in A/C room
Hotel tax and service charges
Breakfast at resort
Five themed buffet dinners
Five days of two-tank morning boat dives
Six days of unlimited shore diving
Unlimited shore diving on two house reef
Use of tanks and weights
Not Included: Travelers are responsible for the following (if applicable):
Trip insurance
Meals while in transit
Lunch while at resort, alcohol
Crew gratuity
Nitrox
Car rental

Additional Requirements: Travelers must supply:
Valid passport with six months left past date of return and two blank pages
Diver and/or Nitrox certification cards
Dive insurance
Signed waiver and Statement of Understanding
Personal dive gear
Audible and visual surface signals, reel or spool
Get More Information
Use the form below.