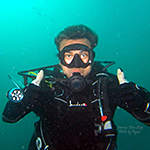 Because all of us have demanding schedules, we are now offering the opportunity to try some of the scuba specialty courses offered at Harry's Dive Shop.
With the scuba specialties sampler session and a weekend of up to five dives under the supervision of an instructor, you can get the Advanced Adventurer recognition card with as few as ten open water dives.
Who?
This course has the following prerequisites:
Be at least 12 years old.
Have a minimum of Open Water Diver certification.
Be able to either answer No to all of the questions on the RSTC Medical History form, or secure a physician's approval prior to taking part.
What?
You get the online Advanced Adventurer academic curricula including versions of up to twelve different courses, class time discussing options and requirements of eventual certification for each class and a pool session to experience and some of the skills required for each particular course.
Then pay to go on a regularly scheduled open water diver certification weekend — or any trip with an instructor — and make up to five dives, one for each specialty. These dives count toward the required dives for certification in that individual course.
We selected the most beneficial to our area:
Search and Recovery
Boat Diving
Underwater Navigation
Wreck Diving
Deep Diving
There is also a demonstration of Rescue Diver techniques and the possibility of a Dry Suit dive.
Where?
All classroom training take place right here at Harry's Dive Shop.
When?
The initial orientation session takes one evening, from 6:00 until 10:00 pm. Available starting dates include:
Thursday, December 8, 2016
Please be aware that, while we make every effort to keep our listings accurate and up to date, you should always call the store to confirm starting dates and times.
How Much?
The cost of this program is $150 and includes:
All instruction.
Self-study materials.
The cost of certification card processing is not included in this price.
Required Equipment
Students are responsible for supplying the following:
Mask, snorkel, fins.
Weight system, weights.
Adequate exposure protection.
One cylinder.*
Buoyancy Control Device (BC).*
Regulator/alternate air source.*
Be aware that some specialty diving acivities may require additional equipment, such as a compass for underwater navigation. Contact store for details.
*If you do not own these items, you can use ones from the rental department at Harry's Dive Shop for the pool session.
Get More Information
Use the form below.